Please read all of
THIS
before beginning to read this lesson.
---
Helen enjoyed the weather; the slight breeze even though the sun was at it's highest. It was a new term, and even though Helen was starting the lessons late, she was a little excited for this batch of students. They were the first batch she'd taught when she'd first arrived. She wasn't the one to be kind and caring, but these students were appealing to her.
"Welcome to Herbology!" She greeted them with open arms. "As you all know, I'm Professor Helen Adela, and I will be your Herbology teacher for the rest of this term. Let's begin then, shall we?" She turned towards the blackboard and waved her wand.
She waved her wand again, and the screen that was tied on the wall, opened itself presenting the students with a picture of the plant: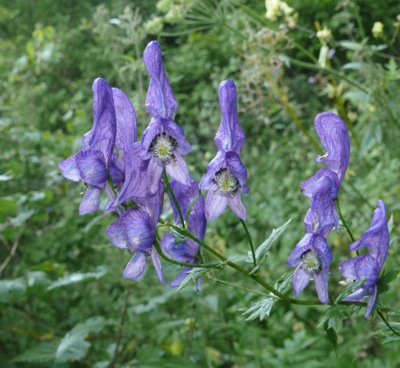 "This is one of my favourite plants." She smiled. "Now, you would probably know this plant by it's other two names, which are Wolfsbane and Monkshood. It's called Monkshood because the shape of the flowers somewhat resembles a monk's cowl. It's flowers and roots are useful in potion making. You would probably know that the Aconite's flower is an ingredient in the Wolfsbane Potion. There are over 250 species of Aconitum." She smiled a little while saying, "Even though Aconitum species are highly toxic, they were used in medicine as a pain-reliever, diuretic, heart sedative, and to induce sweating."
"Now, a few points about it's History. In medieval Europe, aconite was often used as poison in animal bait or on arrows used when hunting wolves, hence the herb also became known as wolfsbane.
Aconite combined with Belladonna, another magical herb, was applied as a magical ointment by witches to make themselves fly." She explained.
"Homework has been put up there." She pointed to the bulletin board at a corner of the room. "Class dismissed."
---
Please
DO NOT
post ANYTHING in this topic. Homeworks are to be submitted
HERE