Derek Lawrence
Ravenclaw Prefect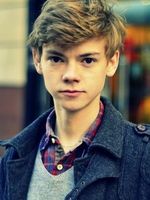 Posts

: 81


Join date

: 2014-04-06

My Character
::

Activity: Ravenclaw - Year 4, Madam Puddifoot's Employee

Subject: Creative Outlets (Phoebe) Mon Aug 03, 2015 9:00 pm

---

Derek felt less sad than he'd anticipated. Considering his girlfriend had broken up with him, he felt positively

fantastic

. But he guessed, in place of sadness, there was a kind of anxiety and insecurity. Like, was he not good enough? Why not? If Ari didn't like him, did anyone? Would he ever find anyone who loved him? And then, he felt frustrated, because he was sure he didn't deserve this, and the person Ari had become annoyed him to no end. But maybe she had always been like that, and he'd just been oblivious, blinded by what he thought was something like the

total agony of being in love

. But maybe he needed to stop moping and sighing and writing angry poetry about Ari and the wrong she'd done by agreeing to go out with him in the first place.

Yes, he would get out and do something useful or fun or productive. A backpack full of schoolwork and books hanging off one arm, a flask full of tea - because what type of Brit would he be if he didn't love some tea of an afternoon? - under the other, he left the Ravenclaw tower not sure where he was heading, and descended the stairs to get to the main bit of the castle. Somehow he ended up in the courtyard. This wasn't a bad thing. He liked the courtyard. It was pretty and under appreciated. There was only one or two students there, which he supposed made it a good place to get some peace and quiet, but it did leave him to his own dark thoughts about how evil Ari was, and with too much motivation to write his creative poetry, featuring a lot of long words nobody else would understand.

Nonetheless, he took a seat on the floor against the wall in the courtyard, next to a pretty flowerbed, and took out his book from his bag. Pouring himself some tea from the flask, he started reading and trying to forget Ari.
Phoebe Cavanaugh
Second Year





Posts

: 11


Join date

: 2015-05-03

My Character
::

Activity: Hufflepuff, Year I

Subject: Re: Creative Outlets (Phoebe) Thu Sep 03, 2015 2:40 am

---

Phoebe was bored. Phoebe let her mind wander when she was bored, and when she let her mind wander, she tended to let herself get carried away, and sometimes she didn't know how she ended up in places. Like just now. She had been thinking about a rainbow, and how something so simple could be so beautiful. And how something so beautiful and simple could brighten somebody's day. There just so happened to be a rainbow over the great lake that she saw when she was walking outside. With her arm that she had a hand on, she pulled her hair to one side. It was really hot. Like the kind of hot after a good hard rain. It was very humid, and Phoebe wondered what it would do to her hair. She had heard girls complaining about what the humidity did to their hair, and she wanted to find out what it would do to hers. Phoebe loved experiments like these. Experiments that she could participate in. She started skipping. She didn't know her destination, nor did she care.

She didn't care that people where staring at her as she skipped. She didn't care what people thought in general. It was just so much more peaceful that way. She found that she had a more easy going personality when she didn't care what people thought. She found that life was more simple, and less stressful when she didn't care about what other people thought. Sometimes she did weird things to see if people would react and to see who she could choose as a friend. Sure that was self centered in a way, but she wanted a true friend. She wanted somebody who would stand by her side, and not care what she did, because yes, she was weird. Her appearance covered that much with her one arm. Phoebe tended to not judge other people by their appearances because she knew what it was like to be judged. She had been judged her entire life. Especially now that she was a magical freak with one arm. That just made things worse in her family.

Now that Phoebe had gone from thinking about rainbows, too what the humidity would do to her hair, to what people thought of her, and the way she didn't judge others, her mood was rather sour. She needed a good laugh. And what better way to get a laugh out of the Ravenclaw child sitting in the middle court yard that she somehow landed herself in. Today, Phoebe sported her Hufflepuff robes with pride. She had just gotten out of lessons, and was not ready to go back to the common room just yet. She smiled at the boy and went up to him and asked, "On a scale of one to ten, how much do you believe in flying unicorns?" She kept a straight face through the question of course, but in her mind she was busting out laughing. She continued, "On a scale of one to ten, do you believe there is a leprechaun at the end of that rainbow over there?" She looked at him with big eyes so that way he wouldn't push her away. In all her weirdness, Phoebe was hoping to gain a friend. That was the objective here. She hoped he saw that.