Tor Odin Gunnarson
Adult





Posts

: 27


Join date

: 2014-04-18

My Character
::
Activity: Curse Breaker

Subject: Unwelcome Visitor (Closed) Wed Jul 30, 2014 10:37 am

---

Tor was sick to death of Hogwarts. Nonetheless, it was better than home. There was still a whole year left of this shit and he didn't know if he could actually deal with the bloody place for much longer. This year, he was actually working a bit hard because he planned on getting a job in England and to do that, he needed some good NEWT scores. And this working hard thing made him so tired, he just wanted to sleep all the time. For instance, right now he was going for a nap before dinner as he was pretty sure he would fall asleep during dinner if he didn't.

It was slightly surprising to see a small Ravenclaw boy nearby the entrance to the Slytherin Common Room. "What the hell are you doing here?" Tor didn't have the patience for this so the kid needed to get out of the way and let him through before he got a punch in the face.

This thread is closed to Derek Lawrence.
Derek Lawrence
Ravenclaw Prefect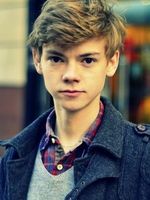 Posts

: 81


Join date

: 2014-04-06

My Character
::

Activity: Ravenclaw - Year 4, Madam Puddifoot's Employee

Subject: Re: Unwelcome Visitor (Closed) Thu Jul 31, 2014 11:23 am

---

Derek, like usual, was just wandering around Hogwarts. Today it was the dungeons. He had been there before because of his Potions lessons, but that was only one corridor. There was more, like the Slytherin common room. He wanted to know how you got in. Ravenclaws need only solve a riddle. If it was similar here, he could get in himself and be partly Slytherin because the green people were really awesome. Just sometimes, though, because Ravenclaws were obviously the best people at Hogwarts.

Once he passed the Potions classroom, he got a bit confused about where he was. Nobody was here and he was lost. So he walked a little bit more. Then he still didn't know where he was. He was starting to get a bit worried, but then he saw a Slytherin old person coming towards him and he grinned in relief. "Hello!" Derek said enthusiastically. "Well... uh... I'm lost! I was just exploring and then- oh, by the way, how do you get into your common room?"