I'm not really into drawing so I can't give these children much real-life detail, but I tried

Basically, when they were around 22/23 years old, carnal desires took control of Jen and Wade and they realized they didn't exactly need to love each other to be together (as my super appropriate cousin Andrew said) and they eventually gave in. Few weeks later, JEN TOLD WADE SHE WAS PREGNANT and nine months later Regulus and Petunia were born. They are fraternal twins.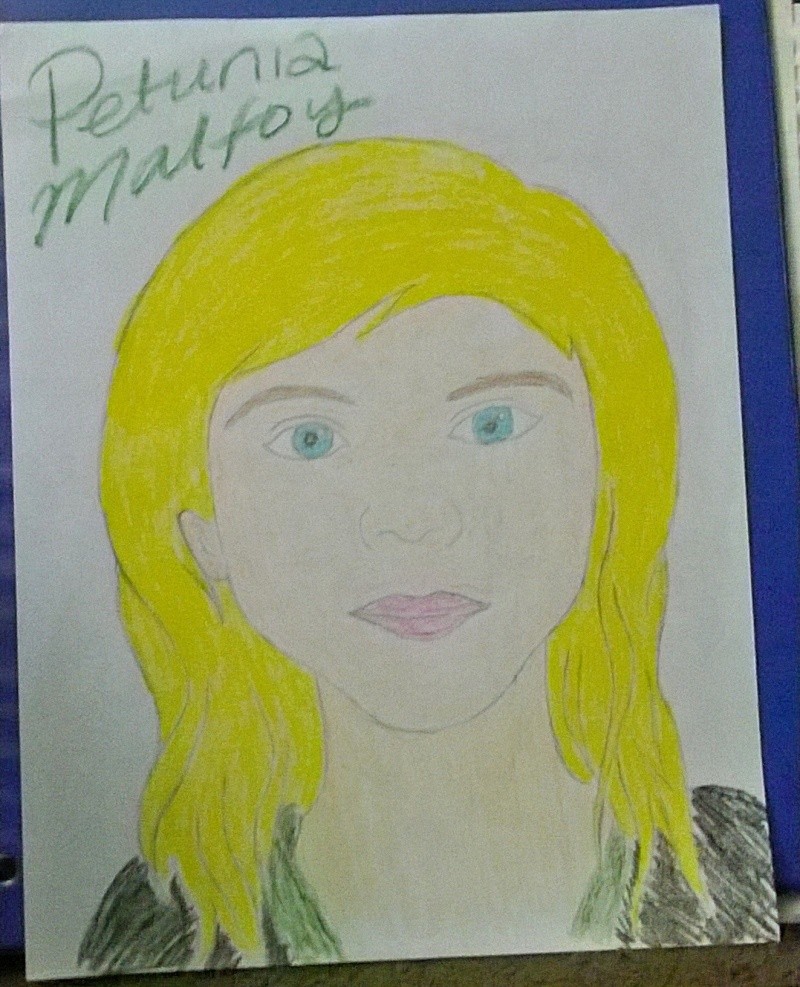 As you can see, Regulus turned out to look A LOT like Wade. He has the dark hair, and the bright blue eyes....not to mention the face shape. Regulus is just as mean and arrogant as Jennifer, but he has his father's sense of loyalty and tradition. THEREFORE, Little Regulus was placed in Slytherin.
Petunia, on the other hand, has Jen's blond curly hair and Wade's eyes and face shape. She also has Jen's lips and looks a lot like Regulus when they're together. Little Petunia was also placed in Slytherin because she is very intelligent, and knows how to get what she wants. She's a little spoiled, too, which makes her pretty much Jen's twin.
Before the twins were of Hogwarts age, Jen and Wade went through a lot of things that made them realize they somehow were perfect for each other. Eventually, they grew to like each other's company and fell in love. When the twins were about 7 years old, SUPER LITTLE NICOLAS was born.
He has dark hair like Wade, but his is curly like Jennifer. He is the only one to have Jen's grey eyes and he looks a bit like a mix of both. He has a very defined face and he looks like the sweetest little thing. Nicolas is actually very naive to his parents' evilness and arrogance. He is cute and intelligent for his age and he likes to read a lot and learn new things. He was obviously as determined and sneaky as the other members of his family, but he was a bit more open minded. THEREFORE, Nicolas was placed in Ravenclaw.
*The children are shown at ages 11 (the twins) and 5 (Nicolas). I ALSO CAN'T DRAW SO I TRIED MY BEST. DON'T JUDGE ME. I LOVE YOU MAISE & ANDREW