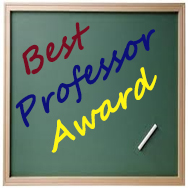 - Description (what do you receive it for): This award is given to the best professor in Hogwarts School of Witchcraft and Wizardry. He or she will be the one who has seriously done his or her work, regularly posted lessons and held interesting classes. 
- Contestants (who is eligible to receive it): Every Hogwarts professor.
- Judge (who determines the winner): The forum administrators will choose three nominees for the award (from the group of Hogwarts professors). Then, all the members of the forum will be able to vote for the one candidate that they think most deserved the award. In order to vote, you need to be a member of the Voters List. The poll will be open for several days, after which the winner will be proclaimed. The winner of the award is the professor with the highest number of votes.
- Periodicity (is the award given every month/year?): At the end of every school year.
- Reward (what do you win): 50 Galleons
_________________
Banner by Shah Chelsea Hazel